Noel had Moved to Australia a number of years ago, was living in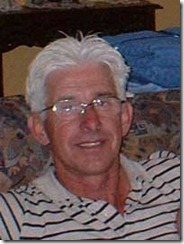 Perth with his family and working with prisoners with mental health problems. Below is how Noel described himself on Facebook and having talked to him a few times during the last 12 months, I would say its fair to say neither of us had changed much over the last 38 years, we spent over an hour on Skype last February talking about the old days.
Noels description of himself on Face Book;
Definitely an acquired taste. Could a played for Leeds Utd in the 70s but concentrated on Table Tennis as foresaw Chinas rise & felt TT more beneficial for work in China.

Got on plane in Heathrow 1983. Dude in pub said ticket was for Bejing but was for Bombay.Worked passage to Perth & continued my missionary work which impacted greatly on my TT career.Focused on swimming which was necessary for survival.Trialled for Ireland Olympic team for LA but was knocked out by Monica Smith.
Focused on golf & took same pills & played off same handicap as as Kim Jung IL
He did not spend a great deal of time on Face Book but some of his comments could of been made 40 years ago, in August he commented about the Kilkenny hurlers ;"Why are Kilkenny so greedy. Its time they moved aside and let Longford win the hurling .Last time I was home Longford Slashers had a really good u14 team they were hoping would go on to great things. Are Kilkenny subject to regular drug testing? The last banter John O Neill and I had with him on Facebook was in late September, when I posted this picture on his Facebook profile
His response was "  Yep still barred from Mullingar! Still was worth it as life was never dull with Richie around. Highlight of Gormo trip to Rome was definitely the passion of the Communist Rally. he had earlier described Mulingar which happened in second year. I think after the Leinister Final as "our crime spree in Mullingar". He said "I was an innocent culchie being led by cockney with no fear of the local papers. They were fun & innocent times".
After second year Noel did not have anybody leading him anywhere. We had  some great times having fun in Gormanston, Rome, Carrick on Suir, and London in the summer of 73 and I will talk about my personal recollections of Noel. click "responses" on top right hand corner of page.
Condolences can be expressed to family  at Noel McGahern Guest Book